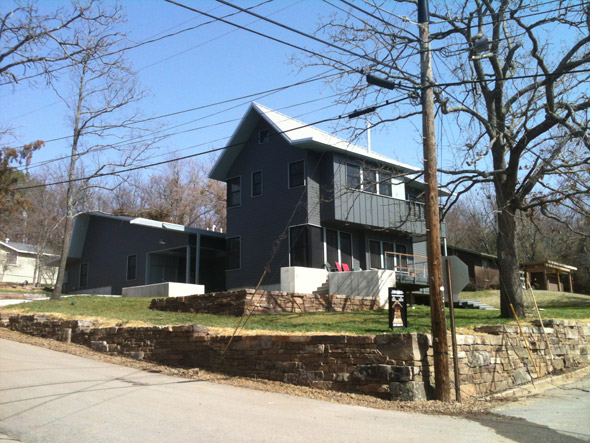 310 E. Cleburn St.
Architect: 3GD inc. with Lynn Fitzpatrick
310 E. Cleburn St. | Fayetteville | 72701
Built 2011; 2-bedroom, 2.5-bath, 2,000 square feet
This house and studio are designed for a professional artist and professor at the University.
Located on an infill lot in an established neighborhood, its modern sensibilities work well with neighbors. Passive strategies, modular design, and 21st century materials make the house "green" as well. Roof water is collected and stored in the water garden, and rain gardens filter the excess runoff from the site. Recycling and "freecycling" during construction helped us minimize the waste stream during construction to less than one container!
Well designed, integrated cabinet systems make the small footprint very efficient and comfortable. Outdoor spaces expand the living area and provide connection to the surrounding city, while maintaining privacy.