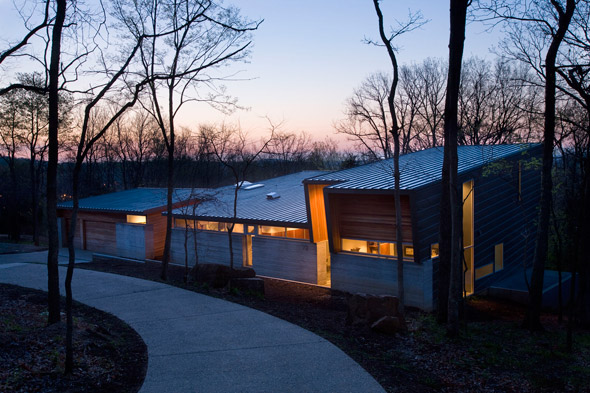 The Jones Residence
Architect: 3GD inc.
72 S. Kestrel Dr. | Fayetteville | 72701
Built 2007; 3-bedroom, 4-bath, 4,400 square feet
This home is currently for sale
All photos courtesy of Dero Sanford.
The Jones Residence is Tom's & Mona's home, but also their primary workplace, and a venue for frequent entertaining.
Located on a two acre lot in a quiet neighborhood near Fayetteville's urban core, sloping significantly to the southeast and views of undeveloped woods, the architecture is conceived as a transitional filter between the city and the woodlot.
Sited near the lower end of the site to preserve a stand of large hardwoods as a buffer between itself and the neighborhood, the north (city) side is composed of limited openings in and around a series of massive board formed concrete walls, which like the native stones on the site, will develop a mossy patina with time.
After one enters the house, the walls are seen to be hollowed, and the spaces within exposed. The south (woodlot) side is revealed in its almost total transparency. Main living spaces share visual and physical access to the south, spilling down a series of terraces to the woods below. The most private areas of the house are to the south, and elevated, affording "tree-house" views of the woodlot.
Tom works at home, at night, requiring temporal separation of different parts of the house from one another. There are really three "shifts" in their daily life: Tom works while Mona sleeps, Mona works while Tom sleeps, and a third of the day is shared. We use both horizontal and vertical buffering strategies to accommodate these use patterns in any combination.