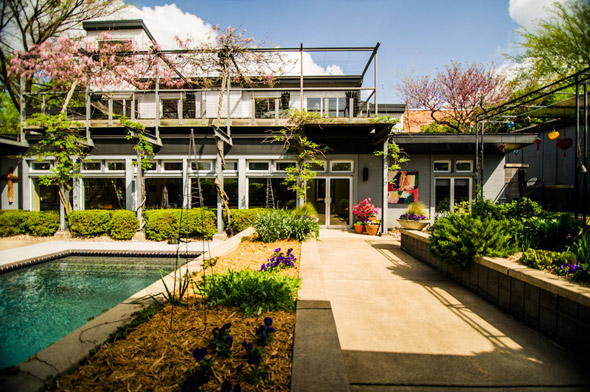 310 Mountain St.
Architect: Audy Lack
310 Mountain St. | Fayetteville | 72701
Built 1960; Renovation: 1999; 2-bedroom, 3.5-bath, 3,712 square feet
This home is currently for sale for $1,070,000
When a New York City area couple moved to Fayetteville they found 310 Mountain Street to be the perfect location for their young son to feel a sense of community while still being in the thick of it all. An abandoned laundromat, a single-story structure with a large parking lot, was careworn for sure, but it was also just two blocks from Town Square. The family would be close to shopping, restaurants, art galleries, the library, and the farmers' market.
With the help of local architect Audy Lack, the grit and the honesty of industrial design was maintained. Keeping the building's bones and foundation intact, Lack reorganized the interior space elegantly and comfortably. He added a second story and transformed the parking lot out front into an urban oasis with a privacy wall, abundant plantings, and a large pool. All of this was done while preserving much of the building's original aesthetic: exposed ductwork and joists, cinder block walls, and concrete flooring.
The home's lines and furnishings are kept simple. An open plan on the first floor includes the kitchen, dining, and living spaces, which are bathed in light that streams in from the wall of windows and glass doors that once formed the laundromat storefront. The glass wall blurs the lines between indoors and out, promoting a calm tenor. Flanking the common space, corrugated metal doors slide open to access the two bedrooms.
A second story addition–a bright and airy open room above the first floor common area–multi-tasks as library, family room, and guest quarters. While the second floor works hard, its broad adjoining steel and wood deck overlooking the garden, pool, and the downtown beyond is where family and friends like to hang out.
The family spends much of their time in the private and lush front courtyard that was once the parking lot. Landscape designer Travis Brooks built bountiful raised beds lining the pathway to the house and fashioned a swimming pool that provides summer-long heat relief. There, a fountain masks the street noise. Brooks framed the courtyard with a concrete block wall, where antique doors from a garden gate vie for as much attention as the metal, steel, cement, and glass structure behind it.