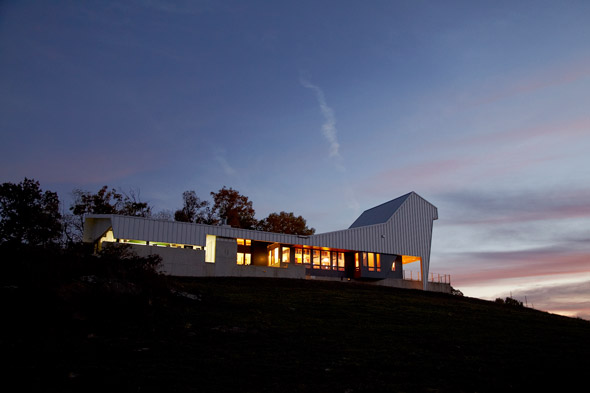 The Round Mountain House
Architect: deMx architecture
15847 Round Mountain Rd. | Fayetteville | 72701
Built 2010; 3-bedroom, 3-bath, 4,495 square feet
Referencing local precedents, the Round Mountain House combines modernist ideals with vernacular strategies and a linear plan to incorporate seamlessly into the Ozark landscape.
Situated on the north face of a hillside, just below the crown of the hill, this house was designed for a couple of empty nesters, plus an elderly parent. The form of the house is treated as two pieces. The "main frame" consists of primarily public spaces: the carport, outdoor breezeway, the guest loft, and main living area; the "lean-to" or "saddle bag" contains primarily private spaces: the bedrooms, bathrooms, closets, and laundry. The main frame is constructed of a steel frame at 16 foot bays on concrete foundation walls. To create the finished form, energy-efficient SIPS (Structurally Insulated Panel System) wrap around the steel frame and roof of both the main frame and the lean-to. The exterior is clad in a combination of standing seam Galvalume® metal panels for the roof and some of the walls; the remaining walls are finished in Hardiboard®.
In addition to the SIPS, the house uses other active and passive sustainable technologies. The main spaces contain low windows on the north and high windows on the east. These operable windows allow for passive cooling through cross ventilation. The second floor loft space creates a covered balcony on the main floor. The balcony is located on the west side of the house and its overhang shelters the living space windows from the harsh western light.